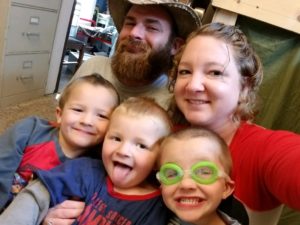 How we got here…
After owning two different properties in town, it was time for us to make a change.  We started with raising chickens on someone else's property.  It went well, and we decided that we would like to continue this.  We were able to get a better quality meat than from the store, and knew what was involved with the life of the chicken that we and our children were consuming.
A year later were moving into Goettl Grove.  Now, to be fair, it didn't start as Goettl Grove; our children called it "The Adventure House."
This was the start, and it all came as a whirlwind from there, as our goat herd and flocks grew.  Fences and shelters flew up as we created a paradise for these animals to spend their days.  They would get to breathe fresh air, bask in the sun, and even sleep out under the stars if they desired.
Our animals and products are produced responsibly with non medicated feed, as natural a diet as can be provided, and a goal toward preventing illness with good health and environment.  After all, this is a choice we made, and our kids are consuming it too.